Sheraton® at the Overland Park Convention Center
This signature 412-key full-service, headquarters hotel is connected by all-weather access and a shared courtyard to the adjacent 237,000-sq. ft. Overland Park Convention Center. The tallest building in the City, the property includes all the fine facilities and amenities demanded by today's convention planners and delegates.
The financing solution included first-lien and second-lien tax-exempt hotel revenue bonds projected to be paid by project revenues, but with a City annual appropriation shortfall guarantee from Citywide Transient Guest Tax (TGT or HOT) collections.
This was one of the first hotels in the nation financed with tax-exempt revenue bonds. The City of Overland Park is the sole recipient of net cash flow after debt service and property residual value, as well as the property's TGT, sales, and property taxes.
The hotel opened for business ahead of schedule and $1.5 million under budget. Opening as the finest hotel in the Sheraton® system, design features of this award-winning property were adopted as the standard for many successive Sheraton® developments.
"I have been involved in construction and construction management for almost 40 years and have never seen a project executed as flawlessly as the Overland Park Sheraton. Garfield and its team truly 'under promised and over delivered'."
— Robert D. Lowry, Director of Public Works, City of Overland Park (1995 – 2004)
Facilities Include
OP1906 3-Meal Bar & Grille with Private Dining Room
OP1906 Patio
Link@Sheraton Cafe
10,695-SF Ballroom
10,805-SF of Meeting Rooms
Indoor Pool and Whirlpool
Club Lounge
Fitness Center
Business Center
Sundry Shop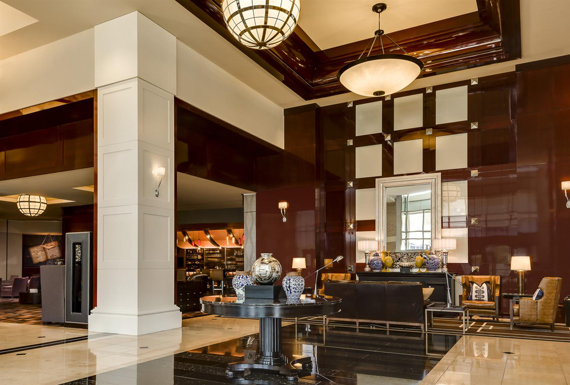 Similar Projects