Huntington Center Arena (Planning)
The Huntington Center is an 8,000‐seat multi‐purpose arena in downtown Toledo, Ohio completed in 2009. It serves as the home of the Toledo Walleye ECHL ice hockey team, and was the home of the Toledo Crush of the Legends Football League for the 2014 season. It also hosts concerts and many other event types.
Garfield was part of the team that performed strategic planning services for the sports and events arena. Garfield's services included leading the funding and financing plan and participating in the determination of the arena's seating capacity, size, operating revenues and expenses, project schedule, and development budget.
Huntington Center is one of the nationʹs first LEED certified professional sports arenas. Its location next to mass transit systems, use of a light‐colored roof membrane that reflects sunlight and underground cisterns collecting rain water to re‐use for landscaping purposes are also emphasized to acquire LEED points for the project.
Since 2010, the Huntington Center has been ranked the number one venue (based on attendance and ticket sales) in the Midwest for four consecutive years by concert industry magazine Venues Today, and has been an economic engine in attracting visitors and promoting additional development in the downtown area for Lucas County.
Facilities Include
66,000 gross sq. ft.
2 Luxury Suites
750 Prestige Club Seats
Club Level Lounge
Dragonfly Terrace
Banquet Facility
Team Merchandise Store
20' x 30' HD Video Board
600' Video Ribbon Board
10 Concession Stands
10 Box Office Windows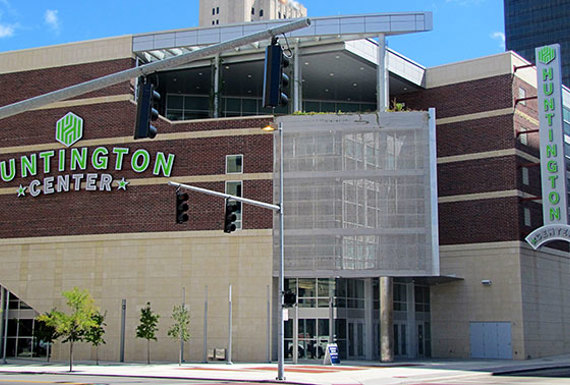 Similar Projects